In the past few years, the need for gluten-free cuisine has risen significantly. While some have chosen to eliminate gluten from their diet, others suffer from more serious gluten intolerances, including celiac disease.
While many choose to avoid restaurants entirely and cook at home (which is made easy with gluten-free cookbooks like this one), you still don't want to miss the social activity of dining out with friends and family. You want restaurants that can accommodate your dietary restrictions.
Because of this rising need, more and more restaurants are adopting gluten-free menus and dishes. Additionally, some restaurants offer plenty of substitution options so that their gluten-free customers can enjoy the same dining experience as their gluten-friendly friends. 
However, not all gluten-free options are the same; while many restaurants do offer gluten-free menu items, they aren't always celiac-friendly. This is why we've put together this list of gluten-free-friendly restaurants as well as their gluten-free options and safety precautions so that you can choose the best restaurant to fit your gluten needs.
Here are the top gluten-free-friendly restaurants in Charleston and their gluten-free offerings.
(Gluten-free pro tip: If you think that you've accidentally ingested gluten, try specially made capsules designed to break down gluten and minimize adverse effects.)
Slightly North of Broad
Slightly North of Broad, lovingly known as S.N.O.B., is the place locals choose when they want fine cuisine with Southern hospitality. Their menu features a variety of Lowcountry food options designed to satisfy any palate. 
Their dining room—with stunning chandeliers, hardwood floors, beautiful rugs, and classic Southern architectural touches—will draw you in while the out-of-this-world dishes will keep you coming back again and again.
Because the menu only features the freshest ingredients, it changes daily, so you'll get something new each time.
Gluten-free options
S.N.O.B. offers a separate gluten-free menu, and its staff is knowledgeable about which dishes are safe for those who can't have gluten as well as suitable substitutions. Be aware, however, that due to the ever-changing menu, there may be times when a gluten-free menu is not available. In these cases, the staff will be able to guide your choices.
"Overall, this was a great find, and I (very sensitive celiac) did not get sick," reported one gluten-free reviewer.
According to Find Me Gluten-Free, 100% of the 18 celiac reviewers reported it to be celiac-friendly, so even those with a severe gluten allergy can enjoy the fare here.
Must-order items
Multiple patrons rave about the gluten-free biscuits. One gluten-free customer stated, "Superb GF dining experience, with biscuits such a highlight that I bought extras to bring back to the hotel, and we're going back tomorrow night to get a dozen more to bring home."
Contact
Website: https://www.snobcharleston.com/
Phone: 843-723-3424
Location: 192 East Bay Street, Charleston, SC 29401
---
Caviar & bananas
This deli-style breakfast, lunch, and dinner spot offers a variety of options for takeout, dining in, and even light shopping. Boasting a modern-industrial design, Caviar & Bananas perfectly combines light gourmet fare in a more casual setting.
Offering packaged foods, sandwiches, salads, cheese, and boutique wine and beer, this location is for those who have a taste for the finer things. Featuring responsibly sourced ingredients from around the world, the menu can be enjoyed guilt-free.
Because of their wide selection of cheese and wine as well as their gourmet sandwiches, many choose this as their go-to spot when planning for a romantic picnic date or when they want to grab a fast bite without sacrificing taste.
Gluten-free options
You can substitute any sandwich with gluten-free bread, however, they say directly on their menu that they prepare items containing gluten on the same surface as their gluten-free sandwiches, so celiac patrons should be aware.
That being said, their staff is well-versed in gluten intolerances, and they are able to guide their celiac customers toward the best celiac-friendly options. Additionally, all of the food is prepared in front of you, so if you are celiac, simply let the staff know, and they will do their best to accommodate your needs.
They also have packaged snacks that are certified gluten-free, and their salads and dressings are mostly celiac-friendly and marked as such. "They make all salad dressings in-house so they know exactly which are gluten-free and they noted "celiac—be very careful" on the receipt," noted one celiac reviewer.
Must-order items
For celiac patrons, it's best to stick with the salads or a sandwich with gluten-free bread that's made-to-order and cold (since the toaster is shared with gluten items). 
Non-celiacs should try any of the sandwiches on a gluten-free bun. You really can't go wrong.
Contact
Website: https://www.caviarandbananas.com/
Phone: 843-577-7757
Location: 51 George Street, Charleston, SC 29401
---
Queen Street Grocery
Opened in 1922, Queen Street Grocery started out as an apothecary. Over the last 100 years, they've adjusted their business model, at some point becoming a corner grocery store and now offering goods and services as a breakfast and lunch dining option.
With offerings like gourmet sandwiches, salads, crepes, smoothies, and craft beer and wine, it's a great location to drop by for breakfast or lunch on the go, a nice picnic lunch, or to enjoy a light meal at one of their outdoor tables.
One happy customer reported that Queen Street Grocery is an "awesome, quirky deli, really. This place is off the beaten path, but worth finding." If you love to find unique dining experiences, then you can't miss this cute locale.
Gluten-free options
While they do offer a number of gluten-free options, like GF cookies, GF crepes, and salads, they do prepare everything on the same surface, so celiacs should be careful. If you have a more severe gluten intolerance, let the staff know, and they can guide you to the best options. It's possible that you'll need to stick to salads and smoothies.
Must-order items
Their gluten-free crepes are everything anyone could ask for. "Both the crepe and the cookie were the best I've had in my five years since being diagnosed with celiacs!" said one reviewer.
Contact
Website: http://queenstreetgrocerycafe.com/
Phone: 843-723-4121
Location: 133 Queen Street, Charleston, SC 29401
---
Basil
For what many call the best Thai food in Charleston, and maybe even the country, come to Basil. Even those who have visited Thailand have been blown away by the offerings.
Whether you're a Thai food newbie or an aficionado, you'll find something to love. The atmosphere only adds to the experience; with large, bright windows and a modern, peaceful design, you'll feel as though you've stepped out of Charleston for a moment into another world.
"There are many Thai restaurants but not like Basil. This was a true experience!" said a reviewer. If you're a lover of Thai cuisine, then you really can't miss Basil on your trip to Charleston.
Gluten-free options
While Asian cuisine is often inherently gluten-free, gluten can be found in soy sauce or other ingredients, so those who can't eat gluten do need to be aware. Basil has made this easy by clearly marking their gluten-free choices on the menu, of which there are plentiful.
Gluten-free patrons have reported that the staff is knowledgeable and notes any celiac visitors. They are also willing to accommodate any gluten-free needs. "I didn't see any alcohol I could have (besides wine)," said one celiac customer, "but the waitress informed me they can switch the vodka in certain drinks to Tito's brand! This will be a regular spot for me when visiting Charleston."
Must-order dishes
Tom kah gai (chicken coconut soup) has been highly recommended by gluten-free and gluten-tolerant patrons alike.
Contact
Website: http://www.eatatbasil.com/
Phone: 843-724-3490
Location: 1070 East Montague Avenue, North Charleston 29405
---
R Kitchen
"It's a kitchen, not a restaurant." These are the words that greet you when you visit the R Kitchen website. This should clue you in that a night here is unlike any other dining experience.
Offering a five-course menu carefully tailored for the guests each evening, an experience at R Kitchen will never be the same. They offer only two seatings at 6pm and 8pm to ensure an intimate experience, and patrons can watch the chefs prepare their meals as they sip on their wine and enjoy each course.
While they do take reservations up to a day before, R Kitchen is often booked up to a month in advance, so be sure to plan well ahead. 
When you come to R Kitchen, you can expect a unique experience that blurs the line between patrons and staff, allowing you to fully experience the preparation that goes into fine dining.
Gluten-free options
Because the five-course meals are uniquely designed each night, all you need to do is let the staff know of your gluten intolerance or that you're celiac when you make your reservation. The chefs will then prepare a menu that addresses your specific dietary needs.
Don't be concerned about your dietary restrictions affecting the rest of your party. "In our seating, there was one celiac and one dairy sensitivity. The food was great and the overall experience was extraordinary," reported one customer. 
Must-order items
Since the menu changes every seating, just come with an open mind and an empty stomach.
Contact
Website: http://www.rutledgekitchen.com/
Phone: 843-789-4342
Location: 212 Rutledge Ave, Charleston, SC 29403
---
CO
For an overall taste of Southeast Asian cuisine, you can't beat CO. Featuring menu items like bahn mi, Vietnamese pho, drunken Thai noodles, and curry, it offers a little taste of multiple countries.
But, the food is only one aspect that draws customers here. The interior combines raw materials with modern design for an ambiance that's both welcoming and contemporary. They offer unique dining opportunities, like community tables, creating a one-of-a-kind dining experience that you'll love.
One customer summed it up perfectly: "Great contemporary atmosphere, excellent service, and awesome food. What more could you ask for?"
Gluten-free options
CO offers a gluten-free menu (available online). They do note that their kitchen is unable to avoid cross-contamination, so be wary if you have severe gluten issues. In spite of this, many celiac customers on Find Me Gluten-Free said that they were able to eat here without an issue.
Because they offer Southeast Asian cuisine, they do have quite a few gluten-free options. You should make your server aware of any dietary restrictions so that they can relay the information to the chefs.
Must-order items
The Hanoi noodles pop up again and again as a crowd favorite. Those over 21 should also try out their substantial cocktail menu.
Contact
Food Menu: https://www.eatatco.com/
Phone: 843-720-3631
Location: 340 King Street, Charleston, SC 29401
---
Charleston Grill
When you dine at Charleston Grill, you aren't just grabbing a bite to eat; you're enjoying an entire culinary experience.
Patrons of the Charleston Grill can enjoy live jazz music in their beautiful dining room, decorated with white tablecloths, gorgeous wooden walls, and a combination of modern and classic touches. As for the menu, it's carefully cultivated by Chef Michelle Weaver who combines the comfort of Lowcountry cuisine with international dishes and ingredients that inspire her. This leaves you with delectable menu items like Indonesian collard greens and smoked duck cassoulet vert with butter beans and bread crumbs.
One customer said, "Wonderful experience. One of the best nights out I've had. The scrumptious food, live piano music, and incredible service made it a night to remember." If you're looking for a memorable dining experience, then Charleston Grill is your place.
Gluten-free options
As a fine dining establishment, Charleston Grill takes dietary restrictions very seriously. For those who require gluten-free options, they do have a menu available, and once you let your server know of your gluten requirements, they will do everything to accommodate them.
"The dinner was one of the best experiences of my life since I learned about my celiac," one diner said. "I am very sensitive to traces and had no reaction. The staff is very knowledgeable about celiac and very nice."
Must-order items
The menu changes consistently. Never fear, the staff is highly knowledgeable and can help guide you through the menu based on your dietary needs and individual tastes.
Website: https://www.charlestongrill.com/
Phone: 843-577-4522
Location: 224 King Street, Charleston, SC 29401
---
Sesame Burgers & Beer
If responsible consumerism and sustainable business practices are important to you, then Sesame Burgers & Beer is a restaurant that you'll love.
Sesame began with good food and sustainable choices in mind. All ingredients are locally sourced from responsible food providers, and they've integrated charitable actions into their business model. "We love our Lowcountry and strive to give back as much as possible," they say. To achieve this, Sesame donates to local nonprofits and partners with local schools and hospitals.
But their environmental- and community-conscious attitude won't be the only thing that draws you here; you'll love their menu, too. "The best burger I've ever had," praised one customer. Their menu is a bit more unique than you might find at other burger places, including items like elk.
This is a great casual spot to grab some delicious good ol' American food using top-notch ingredients that you can feel good about.
Gluten-free options
They offer gluten-free buns to go with their burgers. They even offer gluten-free beer! If you're celiac, be sure to talk to the server about cross-contamination and which sides are safe.
Must-order items
Gluten-free beer lovers should try the Glutenberg White.
Website: https://www.sesameburgersandbeer.com/
Phone: 843-554-4903
Location: 4726 Spruill Ave, North Charleston, SC 29405
---
Basic Kitchen
The home-turned-restaurant that houses Basic Kitchen should give you an idea of what this establishment is all about. Serving only the freshest ingredients, Basic Kitchen strives to provide nourishing, delicious food that will satiate both your taste buds and your body's needs.
The cute, casual atmosphere invites patrons to relax while they wait for their meals—a variety of cuisine, including curry bowls, pasta, and burgers. Basic Kitchen proves that you don't have to sacrifice taste to enjoy a healthy meal. All you need is proper ingredients.
Gluten-free options
Basic Kitchen offers some gluten-free dishes and substitution options, like gluten-free hamburger buns. The staff is knowledgeable about the menu and gluten intolerances and allergies, including celiac, so they can let you know which items are safe from cross-contamination and which are not. Simply let your server know your gluten situation, and they will be able to guide you.
Must-order items
The basic bowl is gluten-free, and customers love it. "I had the basic bowl with chicken, and the flavors were so delicious," said one celiac customer. "I would highly recommend this place for a fellow celiacer. I felt so safe and welcome eating here."
Website: https://www.basickitchen.com/
Phone: 843-789-4568
Location: 82 Wentworth Street, Charleston, SC 29403
---
Sugar Bakeshop
An adorable neighborhood bakery, Sugar Bakeshop provides the Cannonborough Elliotborough neighborhood with tasty treats—pies, cupcakes, cookies, and cakes—that are freshly baked daily. After they opened in 2007, they quickly became a popular neighborhood spot. In spite of their success, they are committed to staying what they are: a small, friendly neighborhood bakeshop.
With this in mind, they operate with a local perspective by partnering with other local businesses and supporting the community. When you want unmatched baked goods from a local spot that cares about Charlestonians, then this is the bakery that you should support.
Don't let their size fool you; their baked goods are out of this world. "Truly one of the best cupcake shops I've been to!" said a reviewer. "I have been multiple times, and have never been disappointed."
Gluten-free options
Sugar offers a number of gluten-free options including the almond orange cookie, the gluten-free chocolate chip cookie, and a gluten-free vanilla cupcake. In the summertime, they also offer popsicles that are also mostly gluten-free (just ask which ones).
It's important to note that Sugar does not consider itself to be celiac-friendly. While they have had celiac customers who haven't had issues after eating here, airborne flour can't be controlled, and there's no way to fully avoid cross-contamination.
Must-order items
The owner herself highly recommends the almond orange cookie, which is "the most wonderful accompaniment to a cup of coffee or tea."
Website: http://www.sugarbake.com/
Phone: 843-579-2891
Location: 59 1/2 Cannon Street, Charleston, SC 29403
---
Zen Asian Fusion
Zen Asian Fusion is the product of owner Rong Zhou's lifelong dream. Born and raised in China, Zhou eventually moved to Japan where he cultivated his cooking skills. In 2010, he and his family moved to Charleston where they opened Zen Asian Fusion.
Offering a variety of cuisine from all over Asia, you'll find items like sushi, mandarine duck, traditional Chinese cuisine, and more. They even offer brunch.
Customers rave about the variety of food choices. "This place is beyond amazing. Their food is so delicious and fresh," said one reviewer. Another claimed, "The only sushi I crave in Charleston. 10 Stars!"
If you want delicious and authentic Asian cuisine, then you can't beat Zen Asian Fusion.
Gluten-free options
Gluten-free options are labeled on the menu, and they even offer gluten-free soy sauce. Servers will note gluten intolerances and allergies directly on their ticket, ensuring that the kitchen staff is well aware of dietary restrictions. 
Must-order items
The sushi rolls are a favorite order among gluten-free and gluten-friendly customers alike. Just be sure to order the gluten-free soy sauce and mention your dietary restrictions to staff. 
Website: https://zenasianrestaurant.com/
Phone: 843-766-6331
Location: 2037 Sam Rittenberg Blvd, Charleston, SC 29407
---
Stella's
Stella's is the direct result of families pursuing the American Dream. Its namesake, Stella Dikos, was a Greek cook who moved to the US in the late-50s where she opened a successful Greek restaurant with her husband.
Stella's as we know it today continues the tradition of offering authentic Greek and Mediterranean cuisine that honors its roots. If you want Greek fare that you can't find anywhere outside of Greece, then this is the place to go.
Customers love its atmosphere. "Delicious food and gorgeous, romantic ambiance (this is a REALLY great date spot, the lighting is a lovely golden hue)," said one reviewer. Located on the corner, the intimate setting combines classy elements with modern design featuring a gorgeous bar at its center.
Gluten-free options
Stella's offers a wide variety of gluten-free options that are clearly marked on the menu. The staff is knowledgeable and attentive when it comes to celiac and gluten intolerances, and they clearly communicate your dietary restrictions to kitchen staff. 
Must-order items
Too often, gluten-free patrons must skip dessert because there aren't enough gluten-free options. Not here! You can enjoy a delectable flourless chocolate cake that even celiacs love. 
Website: https://stellascharleston.com/
Phone: 843-400-0026
Location: 114 Saint Philip St, Charleston, SC 29403
---
The Swamp Fox Restaurant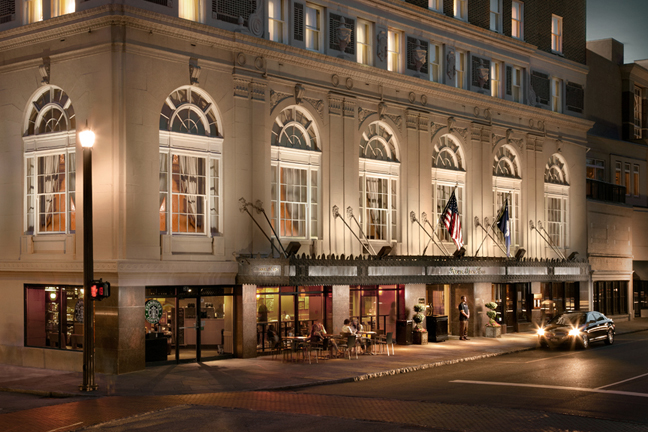 Located in the Francis Marion Hotel, the Swamp Fox Restaurants offers classic Southern cuisine and regional specialties. It's perfect for those craving true, unadulterated Southern fare. 
Don't come here expecting hastily made hotel food. "The food is so good and the service was wonderful. Whether you're staying at Frances Marion or not, eat at Swamp Fox!" said a reviewer. The staff at Swamp Fox Restaurant provides quality food that's not just there for the convenience of hotel guests; anyone wanting delicious Southern comfort food will find themselves coming back for more.
Gluten-free options
Gluten-free dishes are clearly marked on the menu, and they have a wide variety of choices. Staff is attentive to gluten-free needs and can guide you through the menu. They may or may not be able to make changes or substitutions to accommodated gluten-free needs. 
Celiacs should call ahead to see about cross-contamination; some celiac reviewers reported difficulties.
Must-order items
The shrimp and grits are gluten-free, and it's their most popular menu item; it's even won awards. 
Website: https://www.francismarionhotel.com/swamp-fox-restaurant-3/
Phone: 843-724-8888
Location: Francis Marion Hotel, 387 King St, Charleston, SC 29403