When you have severe food allergies, going out for dinner isn't a stress-free way to unwind; it could lead to a trip to serious illness or, even worse, a trip to the hospital. Every time an allergy sufferer bites into a burger prepared by a stranger, they know that there's a possibility that it can make them sick, perhaps life-threateningly.
These risks that allergy sufferers face may result in them choosing to stay home rather than enjoy an evening out; risking their life isn't worth a gourmet meal. However, eating out is an important social activity that carries cultural significance. Especially in the South, where Southern cuisine reigns supreme, you don't want to avoid getting together with friends for great food and company just because you have an allergy.
As extreme allergies have become more common, so have allergy-friendly restaurants. These restaurants have to adhere to the highest standards; they understand that if someone suffers from a peanut allergy, for example, that the food can't even come in contact with the peanut oil. Everything must be handled with extreme care.
Here are 21 restaurants in the Charleston area that can accommodate different types of allergies.
Important note: While all restaurants on this list will accommodate food allergies, not every kitchen is able to avoid cross-contamination for extreme allergies. If you suffer from extreme allergies, call the restaurant prior to your visit to ensure that your food can be prepared safely.
Side note: Those who suffer from food allergies may find this book to be beneficial.
Halls Chophouse
A family-owned establishment, Halls Chophouse opened in Charleston in 2009 by family patriarch Bill Hall. Its attention to detail and unmatched service made it a quick success, and Halls Chophouse has since opened three sister locations.  
The meticulous service that you'll experience at Halls Chophouse starts at the butcher. Every steak is hand-selected, carefully prepped, and served with the highest care. Each dish enjoys individualized attention, ensuring that every plate is just as good as the last.
Allergy safety precautions
Like any restaurant that takes allergies seriously, Halls Chophouse ensures that those who suffer from food allergies can feel secure when they dine here. All food allergies are carefully noted by the staff. One reviewer said, "I think [my server] was more concerned about what I could eat than I was, and I'm allergic to the point of needing an epi-pen with me at all times."
Additionally, Halls Chophouse boasts a five-star rating on Find Me Gluten-Free. 
Although gluten-free and allergy-friendly dishes are not marked on the menu, the staff can help you choose the best dishes for your specific allergy.
Must-order items
The steak, obviously!
The steaks come from Allen Brothers of Chicago. This ensures that each steak is meticulously hand-selected, that it's aged to perfection, and that you can depend upon the quality of every steak that you order at Halls Chophouse.
Contact
Website: www.hallschophouse.com
Phone: 843-727-0090
Charleston Location: 434 King St, Charleston, SC 29403
---
Butcher and Bee
Butcher & Bee opened in 2011 with the goal of creating gourmet meals within sandwiches. In order to achieve this goal, they committed themselves to only the finest fresh ingredients, sustainably sourced from local farms. As it says on their website, "Supporting local and sustainable is not a slogan. It's the right thing to do, and the food tastes better for it."
Because of the freshness of their ingredients, many of their offerings are subject to change based on the season, and you might see a slightly different menu every time you go. But, this only adds to the experience; you know that every bite is as fresh as it can possibly be.
Allergy safety precautions
Like other allergy-friendly restaurants, Butcher & Bee takes careful care when it comes to allergies. They have some gluten-free options available for gluten-free customers, and you can always request substitutions. If you make a reservation, be sure to make a note of your allergy, and let the server know as well so that they can take extra precautions.
Must-order items
Gluten-free customers and non-allergy customers alike have raved about the egg and cheese sandwich. "I was BLOWN away by the quality and size," said one reviewer. "The bread left absolutely nothing to be desired. It was soft and didn't crumble to pieces. I almost couldn't believe it was GF."
Contact
Website: https://butcherandbee.com/
Phone: 843-619-0202
Location: 1085 Morrison Dr, Charleston, SC 29403
---
FIG
FIG boasts fame as one of Charleston's best fine dining establishments. In fact, reservations can be difficult to come by, and if you would like to dine here during your visit to Charleston, be sure to make your reservations well in advance.
At FIG, you'll never have the exact same experience. Their menus change weekly, based on the freshness of seasonal ingredients. Their priority is in their carefully sourced products; since they participate in farm-to-table practices, their dishes depend upon what is available each season.
Dining at FIG is more than the fantastic food. The owners want to create a dining experience for their patrons. This promises an excellent evening of food and friendship. 
Allergy safety precautions
Because the menu changes frequently, some allergy sufferers may be apprehensive about dining here, especially since reservations sometimes must be made well in advance. However, the majority of those with food sensitivities have reported that they felt safe and comfortable dining at FIG.
"The food at FIG is good, and I really appreciated our server being knowledgeable about food allergies," said one food blogger. 
According to the reviews, staff is knowledgeable about food allergies, and they were able to relay detailed allergy information to the chef. Additionally, if you suffer from food allergies or sensitivities, you can let the staff know during your reservation so that they can prepare for your arrival. 
Must-order items
The fun part about an ever-changing menu is that you don't know what you might find. Come with an open mind and an empty stomach; you won't regret it!
Contact
Website: https://eatatfig.com/
Phone: 843-805-5900
Location: 232 Meeting St, Charleston, SC 29401
---
5Church
This stunning restaurant is a favorite among locals and visitors alike. Located in a former church, many of the original features of the building remain, like stunning stained glass windows and an impressive roof, upon which the entirety of Art of War is painted. 
This beautiful atmosphere creates a unique dining experience that brings people back again and again. But, the decorations aren't the only thing that are Instagram-worthy; the delicious dishes are beautifully plated. It's a pleasure for the eyes and the belly. 
On the menu, you'll find Southern classics like fried chicken alongside items like Moroccan meatballs and porcini-crusted duck. With such a variety of unique flavors, you'll love coming here when you've got someone that you want to impress.
Allergy safety precautions
Before you come to 5Church, let them know about any food allergies. You should also let your server know when you are seated. They also have gluten-free options which they will apprise you of upon request.
Must-order items
Patrons rave about their sushi tots appetizer and matcha cake for dessert.
Contact
Website: http://5churchcharleston.com/
Phone: 843-937-8666
Location: 32B, N Market Street, Charleston, SC 29401
---
Beech
Beech began as a dream between two brothers. They wanted to provide healthy food to people on-the-go.
Their menu focuses on the basics of a balanced diet: fruit, fish, rice, and vegetables. Based on this foundation, they've cultivated a delicious menu filled with fresh poke bowls, fruit bowls, fresh pressed juice, and more. Boasting three locations across the US, Beech has become a favorite for those who care about what they eat but require the convenience of fast food. 
Food allergy precautions
Beech takes food allergies very seriously. For all food preparation, they ensure that there's no cross-contamination. Fish preparation is done completely separately at its own station, and peanut butter is strictly kept to its station as well to avoid peanut contamination. 
If even the slightest food allergy is brought to the attention of the server, that allergy is written on the ticket, and all food prepared for the allergy sufferer is done with completely clean gloves and utensils, and a special cutting board and/or blender are used. 
Nearly everything in the shop is gluten-free (with the exception of bagels, bread, and wraps). None of their granola contains gluten, and they offer a special nut-free granola. This makes Beech a safe choice for those who have Celiac's. Even the soy sauce is gluten-free! 
Must-have dishes
The owner himself, Keegan Bird, recommends the sweet fire poke bowl or the Hawaiian-style poke bowl. All of the bowls are gluten-free, so those who can't eat gluten will be happy to know that they can feel free to explore the menu.
If you love acai, he recommends the Beech bowl for a fresh, healthy, and delicious breakfast or lunch. Those who suffer from nut allergies can ask for nut-free, gluten-free, organic granola.
Contact
Website: www.beechrestaurants.com
Phone: (843) 212-5414
Charleston location: 315 King Street, Charleston , SC 29401
---
Grill 225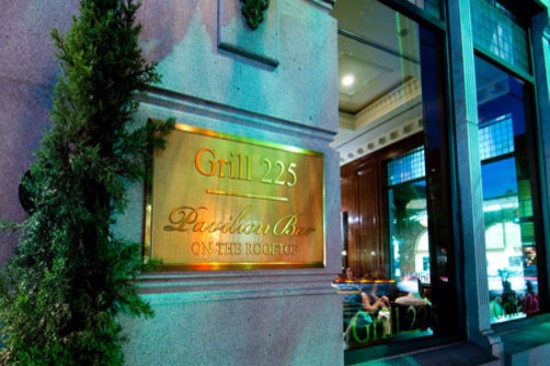 Located in the Market Pavilion Hotel, the ambiance of Grill 225 perfectly captures historic Charleston. You'll love the classic Southern architecture features as you enjoy your delicious steak meal.
All of the steaks at Grill 225 are selected using the highest standards. This promises a steak like you've never had before. If you're not a fan of red meat, they also have many delicious seafood options.
Allergy safety precautions
Their menu is available online so that you can see which items are safe for your food allergy. When making reservations, let the staff know about your food allergies in advance, and talk to your server about your needs before ordering.
Because this is a steakhouse, the menu is already pretty safe for those who must avoid gluten, however if you have gluten allergies, you should still let your server know to avoid cross contamination.
Those who have food allergies and intolerances have reported a positive experience at Grill 225. "I have an intolerance to gluten that was indicated with the reservation and I was very pleased that the waiter knew this and was able to speak intelligently about what menu items I was going to be able to order," said one reviewer.
Must-order items
Besides the obvious choice—steaks—patrons of Grill 225 rave about the lobster, tuna tartare, and the tuna tower.
Grill 225 is also known for a unique offering: the nitroni. Infused with liquid nitrogen, this cocktail is cooled to -325°F, resulting in a refreshing, smoking cocktail. Choose from 16 different flavors, including lychee tea and cotton candy, each uniquely decorated for a libation like none other.
Contact
Website: https://www.marketpavilion.com/grill225.cfm
Phone: 843-266-4222
Location: 225 E Bay St, Charleston, SC 29401
---
Brown Dog Deli
When you want to curb that sandwich craving, then Brown Dog Deli is the place that you can turn to. Featuring loads of sandwich and wraps options, including breakfast sandwiches and vegetarian and vegan options, you'll find the perfect sandwich for you.
Brown Dog Deli offers a variety of menu items, from healthier dishes like the santa fe quinoa wrap to classics that you crave, like biscuits and gravy. You can also find plenty of filling salads, smoothies, and acai bowls.
The deli itself has a bit of a retro vibe, giving off a feel of an old diner. When you want to sit down and have one of the best sandwiches that you've ever had in a classic setting, then Brown Dog Deli is the way to go. Check out one of two locations in Charleston.
Because the food is so great, it does get busy, so we recommend arriving a bit early to ensure a quick seat.
Allergy safety precautions
Despite the fact that it's a sandwich shop, Brown Dog Deli offers gluten-free bread and other substitutes to accommodate allergies. "This is one of the more allergy-friendly places that my husband and I ate at while in Charleston," said a reviewer. "I was able to have a Celiac-friendly sandwich that was still delicious!"
They also have some dairy-free items available. When dining at Brown Dog Deli, make any allergies known before ordering, and consider calling ahead to let them know so that they can make the necessary precautions for your specific allergy.
Must-order items
Almost every menu item here receives rave reviews. Don't be afraid to order a little outside of the box; the Big Mac sandwich (featuring mac & cheese) is one that many patrons adore.
Contact
Website: https://www.browndogdeli.com/
Phone: 843-853-8081
Location: 40 Broad St, Charleston, SC 29401 | 225 Calhoun St, Charleston, SC 29401
---
The Gathering Cafe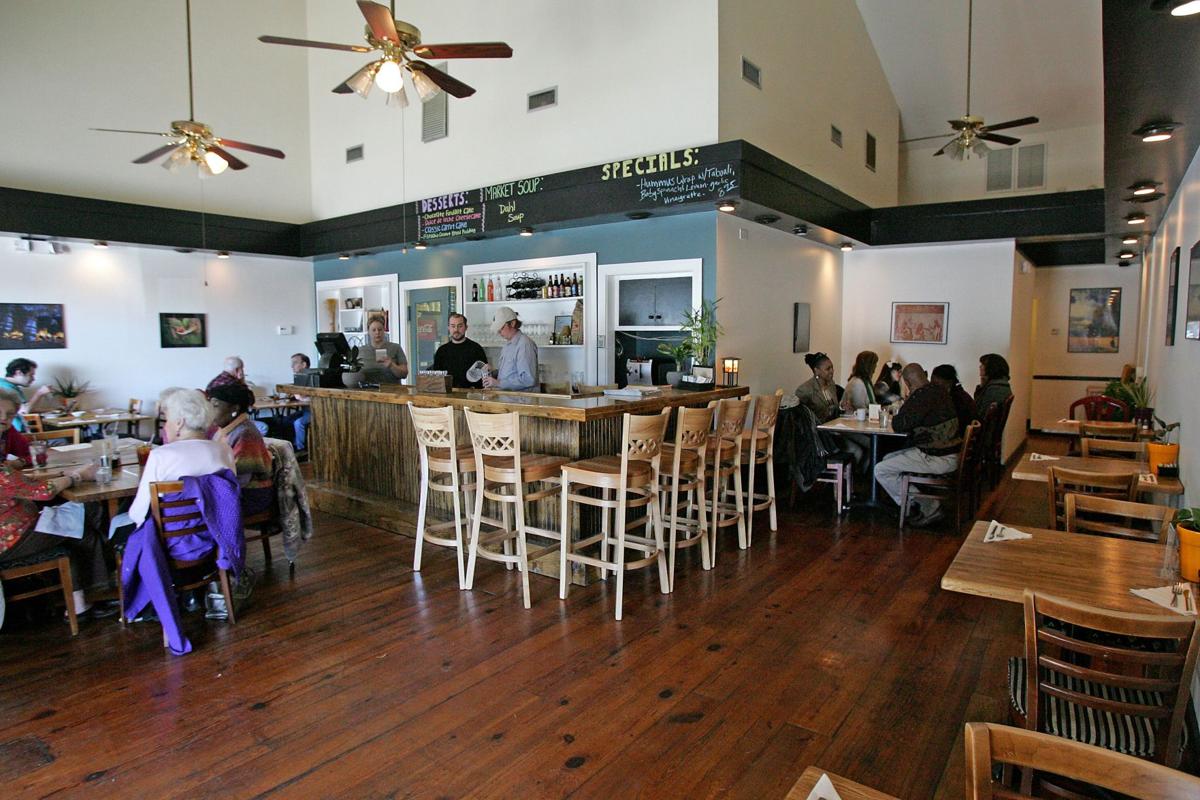 "Comfort food with a healthy touch," says The Gathering Cafe restaurant. One look at the menu—featuring things like avocado toast, Panang curry, and gluten-free mac & cheese—and you'd be inclined to agree.
Located in the Orange Grove Plaza Shopping Center, the exterior is nothing to write home about, but once you enter, you'll be greeted by a cute, cozy deli-like setting. 
Because The Gathering Cafe is focused on offering only the best and freshest ingredients, their menu constantly changes with the seasons. This ensures farm-to-table freshness and a healthy, organic meal.
Allergy safety precautions
Vegan and gluten-free menu items are clearly marked, making this an ideal spot for those with dairy or gluten allergies and sensitivities. For those who have severe allergies, it's a good idea to call ahead and let them know so that they can take the proper precautions.
The Gathering Cafe is a favorite among allergy sufferers. One reviewer who was happy with the allergy accommodation said, "I went to Charleston for a few days on vacation, and it was difficult for me to find a place to eat that could accommodate both mine and my boyfriend's dietary needs." Another said, "Amazing breakfast! Husband and I both have allergies/gluten-free and it was amazing. Got the breakfast sandwich with GF bread. So good!."
Must-order items
Because the menu is constantly changing to accommodate the freshest ingredients, you'll just have to see what speaks to you. Don't be afraid to be a little bold and try something new.
Contact
Website: http://gatheringwestashley.com/
Phone: 842-297-8380
Location: Orange Grove Plaza Shopping Center, 1124 Sam Rittenberg Blvd, Charleston, SC 29407
---
Basil
Consistently praised as the best Thai restaurant in not just Charleston but in the entire country, Basil boasts a beautiful menu filled with Thai and Southeast Asian cuisine.
The food makes this spot a foodie paradise. Every menu item is delectable, and even those who have tasted genuine Thai cuisine have said that the food found at Basil exceeds expectations. If you're looking for some of the best Thai food that you can find outside of Thailand, then Basil is where you should go.
As a note, true vegetarian and vegan options are limited due to the fact that much of the cuisine is cooked in fish oil. 
Allergy safety precautions
Although Southeast Asian cuisine is often safe for those who suffer from gluten allergies, there are some ingredients that gluten sneaks its way into, like soy sauce, so those who are Celiac and those who have an extreme gluten intolerance should be careful. At Basil, they've made it easy by clearly labeling all gluten-free items.
Additionally, patrons who suffer from food allergies should alert staff prior to their visit so that the restaurant can take the proper precautions.
Those who suffer from food allergies have reported that they feel very safe dining at Basil. "The food is consistently delicious, the menu is easily modified for my food allergies (dairy, eggs, and wheat) and there are a lot of vegetarian options, as well, which is rare in Charleston, so absolutely appreciated," one reviewer said. Another raved, "Great with GF allergy! The chicken coconut soup was insanely delicious! Never tasted anything like it!"
Must-order items
The pad thai comes highly recommended for Thai food aficionados and newbies alike. Other customers couldn't get enough of the chicken coconut soup.
Contact
Website: http://www.eatatbasil.com/
Phone: 843-724-3490
Location: Basil Thai Park Circle, 1070 E Montague Ave A, North Charleston, SC 29405
---
Mellow Mushroom
Mellow Mushroom perfectly combines delicious pizza with a unique ambience. Inspired by travel, this restaurant features things like flight routes on the ceiling, tables made out of airplane metal, and art walls, including a wall covered in clocks showing different times around the world. 
Besides the pizza, Mellow Mushroom also offers calzones, sandwiches, and salads, so it's a great go-to for groups with a variety of tastes.
Their menu is one that they're happy to adjust, even for those without any sort of food allergies. "I love the customization! Super plant-based friendly. Waitress took multiple complicated orders and nailed them all," said one reviewer.
They even have a sizable cocktail menu, craft beers, and outdoor dining, making it the perfect spot for after-work drinks and apps.
Allergy safety precautions
Mellow Mushroom's menu clearly marks gluten-free and ovo-lacto vegetarian dishes. For other allergies, you can find their allergen menu online, which is an interactive menu that will sort safe dishes based on your dietary restrictions. 
"This restaurant is amazing for gluten-free pizza!!" said one happy customer. "They also have great vegan/vegetarian options! I am gluten- and dairy-free so I typically don't get to enjoy pizza, but this pizza was amazing!"
Must-order items
You really can't go wrong with the pizza. Visitors rave about the crispy crust, delicious toppings, and made-to-order goodness.
Contact
Website: https://mellowmushroom.com/
Phone: 843-790-9000
Location: 4855 Tanger Outlet Blvd, North Charleston, SC 29418
---
Muse Restaurant & Wine Bar
Located in a historic building, Muse Restaurant & Wine Bar boasts old Charleston charm with modern touches. The ambience is hard to match; you'll love the original hardwood floors, chandeliers, beautiful plates, and other nice touches to create a gorgeous dining experience.
While the atmosphere draws you in, the menu will keep you coming back again and again. Featuring Italian cuisine, you'll love the variety of dishes, including seafood, steak, tuna tartare, and more. 
Allergy safety precautions
When you have a gluten allergy, Italian food is usually a no-go. Luckily, Muse Restaurant & Wine Bar offers gluten-free pasta and other substitutes, expanding the options for those who can't eat gluten.
They also clearly label all gluten-free, gluten-free with substitute, and vegetarian options. If your food allergies are severe, contact the restaurant ahead of time to ensure that they take the proper precautions.
Must-order items
This is a spot to let your server choose for you. The staff is highly knowledgeable of the menu, and multiple customers have recommended allowing the server to put together a three-course meal based on their tastes and dietary restrictions.
One reviewer said, "We put our faith in Donnie and he did not disappoint. When we tasted the initial spread of cocktails that came out we knew we were in trouble. In the short interaction Donnie had had with us he matched us perfectly."
Contact
Website: https://www.charlestonmuse.com/
Phone: 843-577-1102
Location: 82 Society St, Charleston, SC 29401
---
Slightly North of Broad (S.N.O.B.)
Slightly North of Broad, or S.N.O.B., is a local favorite that perfectly combines fine dining and Southern hospitality. Boasting a classic ambiance, the gorgeous dining room features chandeliers, beautiful rugs, exposed brick, and other unique touches that add to the dining experience.
But, the atmosphere isn't the only thing that will blow you away. The food is to die for. Offering brunch, lunch, and dinner, you can choose from a variety of delectable cocktails, items like grilled salmon salad, local cherry point swordfish, and steak fries. Their menu changes daily so that they can offer only the freshest, seasonal ingredients, so you'll experience something a little different every time. 
A self-proclaimed "eclectic Lowcountry bistro," S.N.O.B. offers a variety of dishes to accommodate any taste. Inspired by the ingredients and Lowcountry cuisine, the food offered here tastes and feels like an art form.
Allergy safety precautions
Slightly North of Broad is well-known in the Charleston area for its gluten-free offerings. They have a separate gluten-free menu, and the staff is knowledgeable about dietary restrictions.
While gluten is a big consideration, they take other food allergies seriously, too. Despite the fact that the menu changes daily, the servers know the menu well, and they relay any dietary restrictions to the kitchen staff. It's recommended that you make any allergies known upon reservation so that the kitchen can adequately prepare.
One food blogger said, "You will find food allergies easily catered to, while delivering top-notch flavor. I highly recommend making this a stop for dinner on your visit to the low country!"
Must-order items
The menu changes daily, so show up and see what you can find! They do have gluten-free menus available.
Contact
Website: https://www.snobcharleston.com/
Phone: 843-723-3424
Location: 192 E Bay St 1st Floor, Charleston, SC 29401
---
O-Ku
One of Charleston's favorite sushi destinations, O-Ku, offers unmatched sushi and seafood dishes in a fun, modern setting. Boasting a full bar, O-Ku also has a wide variety of cocktails and other libations available as well as a late-night menu.
A contemporary restaurant, in the evenings, you'll get a bit of a nightlife vibe to go with your sushi, making it a great spot to grab dinner before heading out on the town. That being said, it's still family-friendly, and during the day, it's more laid back.
For a fun dining experience with amazing sushi, O-Ku is the place to go.
Allergy safety precautions
While most Asian cuisine is Celiac-safe, gluten can be found in dishes you may not expect. Knowing this, O-Ku staff is very clear on what contains gluten and can help guide you through the menu. One reviewer reported, "The atmosphere here was fantastic. The staff was so friendly and knew exactly what was Celiac safe/gluten-free."
Beyond gluten allergies, other allergies are accommodated, including shellfish. Simply let the server know, and they will accommodate your dietary restrictions. For extreme allergies, it's a good idea to call ahead. 
Must-order items
For those who have a hard time deciding what to order, they can try the omakase, a dining style where you put your trust in the chef, and he showcases whichever dishes he would like (dietary restrictions in mind). 
Contact
Website: https://www.o-kusushi.com/
Phone: 843-737-0112
Location: 463 King St, Charleston, SC 29403
---
Poke Tea House

For fresh and delicious poke bowls and unique teas, check out Poke Tea House. The perfect lunchtime spot, Poke Tea House offers the freshest ingredients in a bowl, wrap, or salad form to satiate any craving.
As for teas, you can choose from standard sweet tea, Thai tea, matcha tea, bubble tea, and others. This is one of the spots that locals love when they want a fresh and healthy lunchtime meal.
You can also create custom dishes. "Seems near limitless," said a reviewer.
Allergy safety precautions
They are able to accommodate a number of allergy types. The teas can be mixed with dairy alternatives for those who are intolerant to lactose, and much of their menu is already gluten-free because of the nature of the cuisine.
If you have any dietary restrictions, simply let them know, and they will adjust accordingly. 
Must-order items
Multiple reviewers say that the ahi tuna poke bowl is to die for.
Contact
Website: https://www.poketeahouse.com/
Phone: 854-444-3591
Location: 441 Meeting Street unit E, (Between Meeting & King on Spring) St, Charleston, SC 29403
---
Basic Kitchen
According to their website, Basic Kitchen is "about honest food that's good for you." Under this mantra, they offer a rotating menu with seasonal food options featuring local ingredients.
The menu may include a variety of cuisine, including tasty bowls, burgers, and pasta. The goal at Basic Kitchen is top-notch flavors and sustainable, locally sourced ingredients, which results in worldwide cuisine choices. 
Located in a home-turned-restaurant, Basic Kitchen combines a trendy ambiance with a homey feel. They've also got a patio where you can sip on a refreshing cocktail to stave the heat. If you're looking for creative cuisine in a modern atmosphere, then this is the place to go. "Good service, good vibes, great spot," raved one happy customer.
Allergy safety precautions
Allergies can be accommodated upon request. They have both gluten-free and vegan-friendly buns available. Although they do not have allergy-specific menus, individual dishes can be adjusted to accommodate dietary restrictions.
Must-order items
Since the menu is rotating, you'll find something a little different each time you go. But, you can be sure that every dish is as fresh as possible.
Contact
Website: https://www.basickitchen.com/
Phone: 843-789-4568
Location: 82 Wentworth St, Charleston, SC 29401
---
Gnome Café
The Gnome Cafe is a plant-based restaurant for everyone. Cultivating a delicious menu dedicated to vegan cuisine, this breakfast and lunch locale satisfies vegans and meat-eaters alike.
When non-vegans think about plant-based food, they often picture bland dishes that aren't quite filling. The Gnome Cafe proves this notion wrong. "I ate here as often as I could while visiting the Charleston area," said one customer. "It was probably solely responsible for the extra weight I put on, because the food was good, I had to have two breakfasts every time!"
Featuring a variety of menu items like fried "chicken," bagel sandwiches, and a grits bowl, it offers a little something for everyone. Their coffee is also responsibly sourced, ensuring that your meal makes as small of an environmental impact as possible.
Allergy safety precautions
Since it's vegan, it's already safe for those who have dairy allergies. Additionally, there are tons of gluten-free options for those who are sensitive to gluten. For other allergies or more severe allergies, let the staff know about dietary restrictions.
Must-order items
Multiple customers rave about the breakfast burrito. One regular said, "The breakfast burrito is a favorite but you really can't go wrong with anything on their menu."
Contact
Website: http://www.gnomecafe.com/
Phone: 843-793-4931
Location: 109 President St, Charleston, SC 29403
---
Home Team BBQ
When you want unique BBQ that also reflects the fundamentals, you want to try Home Team BBQ.
The menu combines experimental tastes with the key aspects that make Southern BBQ so special. "Best BBQ I've tasted in Lowcountry so far," said one customer.
But, this place goes beyond the meal. Their downtown location boasts a 35-seat bar, a shipping container stage where patrons can enjoy live music, a full bar that's open late, lots of flatscreen TVs, and more. It's truly the place to be when you require a full dining experience.
Their portions are quite large, so come hungry. You can also order larger platters to share.
Allergy safety precautions
Home Team BBQ offers a gluten-free menu for those with gluten sensitivities. Additionally, the staff and the chef will work hard to ensure that all of your dietary needs are met. Be sure to let the staff know about all food allergies. Since Home Team BBQ takes an experimental approach, there may be ingredients that surprise you in certain dishes. (For example, the coleslaw contains nuts, making it unsafe for those with nut allergies.)
In the coming weeks, they will provide an allergen menu that will highlight items that contain, gluten, nuts, dairy, soy, onion, and garlic, including their sauces and the kids' menu. At Home Team BBQ, they take allergies very seriously. Becca Knox, the Director of Marketing, says, "We know it's often challenging for folks with allergies to eat out. We pride ourselves in creating an environment guests feel comfortable and confident when dining with us."
Must-order items
Many visitors can't get enough of the brisket burrito. It's so good that "it might ruin your life," praised one customer. Another fan favorite is the smoked wings, which one person said gave them life.
Contact
Website: https://hometeambbq.com/
Phone: 843-225-7427
Location: 126 Williman St, Charleston, SC 29403
---
Mercantile and Mash
Located in the renovated old Cigar Factory, Mercantile & Mash seeks to serve the best local and handmade cuisine in Charleston. Featuring breakfast and lunch items like gourmet sandwiches and burgers, this is the place to go when you want to grab a quick lunch that explodes the taste buds. 
Or, stick around and enjoy the ambience. The renovation left the space modernized while maintaining certain original features. This creates a beautiful dining area that's both classy and casual. There's outdoor seating available as well.
Customers who come here aren't just happy—they're left wondering where this restaurant has been all their life. "This is, without a doubt, the best breakfast food and coffee I have ever consumed in my life," said one ecstatic reviewer.
Allergy safety precautions
Sandwiches and other bread items may be substituted with gluten-free bread. For other allergies, patrons can notify their server and receive some guidance. If you have extreme allergies, please call ahead for special accommodations.
Must-order items
Time and time again, reviewers recommend the huevos rancheros wrap. "The charred tomato salsa is divine!" said one customer. 
Contact
Website: https://www.mercandmash.com/
Phone: 843-793-2636
Location: 701 E Bay St, Charleston SC 29403